History
History of Redhill Aerodrome
In 1933 the Minister of Health allows development of an aerodrome at what was Hamme Farm.
From 1933 use was primarily for private flying by the Redhill Flying Club (although current dormant the company remains in existence today and is wholly owned by Redhill Aerodrome Ventures Ltd).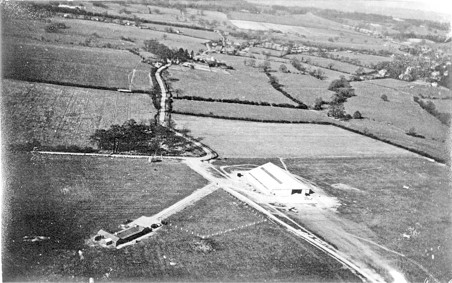 Redhill Aerodrome pictured in 1937. The first hangar to be built, which remains today "Hangar 9".
1937 saw the RAF Volunteer Reserve (RAFVR) establish a training school at Redhill, which was operated intensively up to and during the Second World War. Redhill became a fighter base with Spitfires stationed during the period of the war. It was home to Canadian and Polish squadrons and acted as an advanced airfield for the attack on Dieppe in August 1942, housing some 800 personnel at the time.
Between 1947 and 1949 the aerodrome was substantially used by British Air Transport Ltd as a maintenance base for its charter operations at Croydon and Kenley Airports.
1948 saw Redhill Flying Club restart its activities at the aerodrome.
The RAFVR continued training operation until 1954.
During the period between 1954 and into the 1980's some buildings were used by the Home office, primarily for the storage of "materials that may be necessary in cases of national emergency".
In 1960 Bristow Helicopters took up residence at the aerodrome and developed a major helicopter pilot training school, which saw annual helicopter movements peak at approximately 65,000 Bristow's helicopter training operations continued until 1999 When its operation moved to the USA (California and Florida).
1973 saw the construction of the Bristow's office block, which is still owned and occupied by Bristow Helicopters and which forms one of the Head Office locations from which it manages its global helicopter operation.
In 1986 the current terminal building and control tower were constructed (see front cover).
In 1991 the then owner of Redhill, British and Commonwealth Ltd was facing liquidation and the aerodrome was acquired by its present owner, Redhill Aerodrome Ventures Ltd.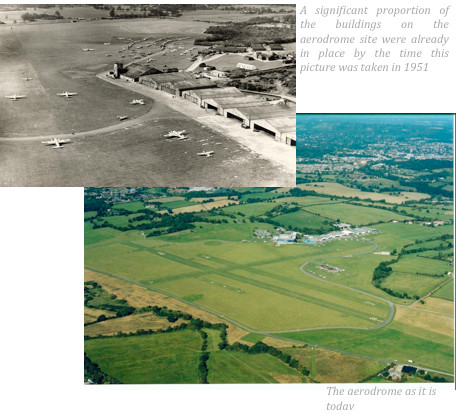 Redhill Today
Aviation Activities – Redhill has a range of commercial aviation activities; these range from helicopter and fixed wing charter services to flying training and aircraft maintenance. The aerodrome is also home to a number of private aircraft whose owners base them at Redhill because it provides a convenient location for both business and leisure purposes. The Aerodrome is also provides a base for the Air Ambulance Kent Surrey and Sussex together with the National Police Air Service.
Commercial Activities – there are a variety of companies and organisations are based at Redhill Aerodrome. Details on these companies can be found on the Airfield Business page.